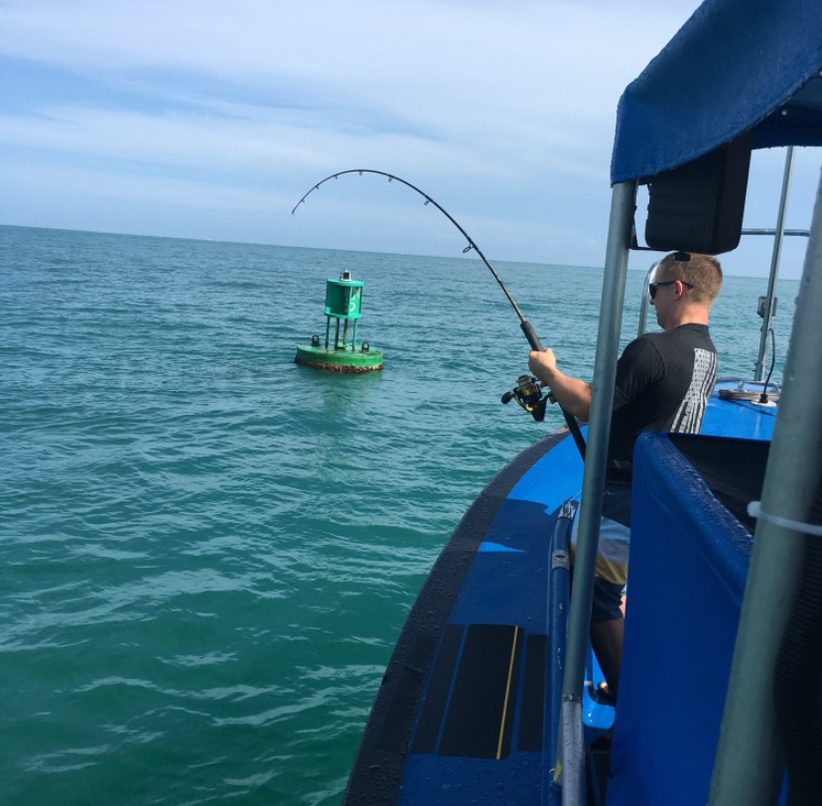 $99 – Half Day Am (4 Hours) • Up to 10 people • Price per person
* Fuel Surcharges may be added to some trips & will be included in your booking fees
Click below to select your dates
A Group Fishing Experience in the Florida Keys
Head out on the water for a fishing adventure in the Florida Keys! This party boat fishing charter offers premium fishing excursions for anglers of all skill levels. Let the experienced captain and crew take you to their tried-and-true fishing spots across pristine South Florida waters.
Limited to 10 passengers, this unforgettable expedition is a great way to introduce family and friends to saltwater fishing, get the kids away from technology, or simply add an exciting experience to your vacation.
The Florida Keys is known around the world as a premium fishing destination. This Party Boat trip is one of the best ways to experience the thrill of coastal angling in a relaxed and fun environment.
Want the most out of your experience? Then try this charter, one of the oldest and all-around best Key West fishing charters! Let the Captain and crew design an unforgettable trip with more to catch and less to worry about.
What You'll Experience:
Exclusive fishing excursion with up to 10 anglers max
Safe & socially-distanced fishing excursion aboard a 33ft Liberty Launch boat
Target Mahi Mahi, tuna, grouper, sailfish, and shark
Scenic day on the water lasting 4 hours
Frequently Asked Questions
How many people can I bring on this trip? The Party Boat Charter allows up to 10 people maximum.

What should I bring? Please bring protection from the sun including a hat, sunscreen, sunglasses, etc. Also, it's encouraged to bring along snacks and beverages (no glass allowed). Bottle water will be provided.

How often do you catch fish? We are proud to boast a 99% success rate on target species.

Will you fillet the fish for me? Yes! We happily bag and fillet the fish for you.

Are restrooms available on board? Yes, we have a private restroom available on board.

Can I bring my service dog? Yes, you are welcome to bring your service dog. Please notify us upon reserving your trip.

Can my toddler go on this tour? This trip is OK for toddlers, but be sure to check with the Captain to make sure this tour is right for your child. Children must be accompanied by an adult at all times. No expectant mothers or people with serious heart/health conditions.

What is your cancellation policy? If booking directly, you can cancel up to 24 hours prior to your departure time for a full refund with no fee. Cancellations after 24 hours and no-shows will not be refunded. In the event of unfavorable weather, the Captain will decide whether the trip will depart or not. If the trip is canceled due to weather, you will be rescheduled or a full refund will be issued.