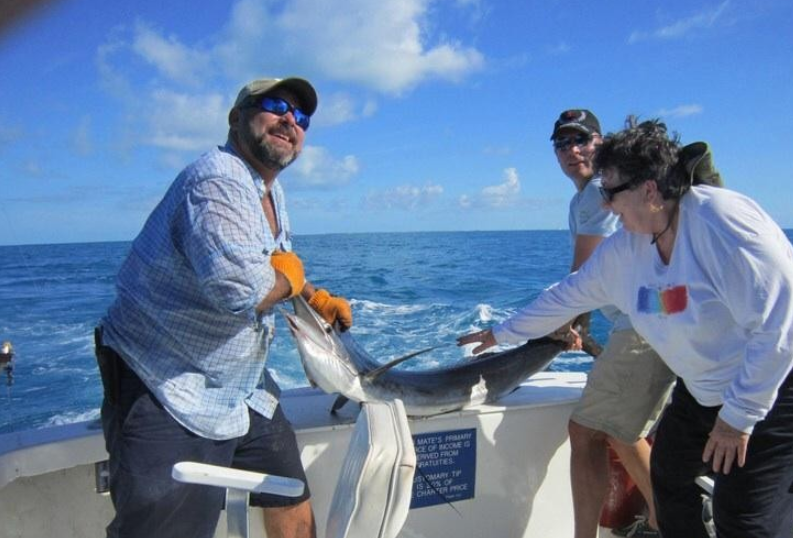 $900 – Half Day AM or PM (4 Hours) • Up to 6 people • Price per boat
$1,150 – 3/4 Day Morning Charter Starts at 8 A.M. (6 Hours) • Up to 6 people • Price per boat
$1,500 – Full Day Private Charter Starts at 8 A.M. (8 Hours) • Up to 6 people • Price per boat
* Fuel Surcharges may be added to some trips & will be included in your booking fees
Click below to select your dates
Imagine your very own fishing adventure where you choose what to catch! The crew caters to your every fishing need, and when the first mate yells "FISH ON!", you know that only yourself or your closest friends and family are going to reel it in.
It may sound too good to be true, but it's certainly no "fish tale"! This dream VIP fishing experience is available to anglers in Key West with our Private Charter trips.
With decades of experience operating in Key West, FL, Captain Conch Charters knows how to find and catch the fish you want. From larger-than-life species like shark, marlin, and tarpon, to the most sought-after table-fare like snapper and grouper, we've got the bait, gear, and know-how to put it on your hook.
Our Private Charters are perfect for groups seeking an intimate fishing adventure. As with all of our fishing tours, license, bait, tackle, bottled water, and fish cleaning/filleting are included.
What You'll Experience:
Exclusive fishing excursion with up to 6 anglers max
Bottom reef fishing, trolling, and other fishing tactics
Custom-tailored trip hunting for your target fish species
Scenic day on the water lasting 4, 6, or 8 hours
Frequently Asked Questions
How many people can I bring on this trip? The Private Charter allows up to 6 people maximum.

What should I bring? Please bring protection from the sun including a hat, sunscreen, sunglasses, etc. Also, it's encouraged to bring along snacks and beverages (no glass allowed). Bottle water will be provided.
How often do you catch fish? We are proud to boast a 99% success rate on target species.

Will you fillet the fish for me? Yes! We happily bag and fillet the fish for you.

Are restrooms available on board? Yes, we have a private restroom available on board.

Can I bring my service dog? Yes, you are welcome to bring your service dog. Please notify us upon reserving your trip.

Can my toddler go on this tour? This trip is not recommended for pregnant women and children under the age of 3 years old.

What is your cancellation policy? If booking directly, you can cancel up to 24 hours prior to your departure time for a full refund with no fee. Cancellations after 24 hours and no-shows will not be refunded. In the event of unfavorable weather, the Captain will decide whether the trip will depart or not. If the trip is canceled due to weather, you will be rescheduled or a full refund will be issued.